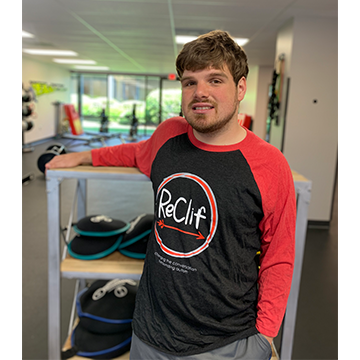 Come See How We Are Changing the Conversation Surrounding Autism
When Reece Blankenship was 19 years old, his mind and body were finally able to work together to express his many thoughts thanks to a process called Spelling to Communicate. His entire life experience up to that point inspired Reece and his parents to pursue his vision of ReClif.
Based on the foundational belief that all people have competence regardless of their perceived limitations, ReClif strives to create the opportunity for every participant to thrive to the best of their ability. By offering personalized, innovative, and exciting training regimes we believe that we can help our clients reach new heights.
The team at ReClif offers a variety of programs that encourage personal growth and goal achievement for our clients. We believe that every client is capable if given the right opportunity with the appropriate support.
Learn More
We are breaking down the barrier of communication with Spelling to Communicate. Many in the autistic community are unable to share what they are thinking. This program may be the solution you've been looking for!
Learn More
Many individuals with autism have a difficult time controlling unruly bodies and sensory issues that make ordinary outings arduous and stressful for themselves and their families. See how ReClif Community strives to enhance life experiences for this underserved and often sequestered population.
Learn More
Explore Each Of Our Programs
Creating a Culture of Success
The culture at ReClif is built upon positive and progressive interactions between our staff and your family. We provide a wide variety of individualized services and work to create custom sessions that maximize the client's time and ability.
Our staff and coaches value each person that enters ReClif and strive to make this a positive experience for everyone. Call (678) 691-5426 to schedule a tour, meet our coaches, and reserve time for a FREE intake evaluation. We look forward to getting to know your family.